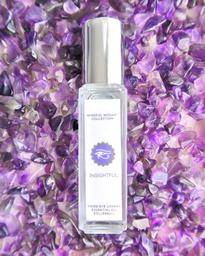 INSIGHTFUL - Third Eye Chakra Essential Oil Blend
Sale price Price $17.95 Regular price
FEEL SAFE AND GUIDED, FIND INNER WISDOM
A healing blend infused with Lavender essential oil and Amethyst.
Apply to the middle of the forehead 2 - 4 times a day and affirm:
"Infinite possibilities are available to me."
Ingredients: Organic Helianthus Annus (Sunflower)Oil, Organic Simmondsia Chinensis (Jojoba) Oil, Organic Lavender essential oil,and energized with Amethyst gemstone. 
*Some gems may vary slightly.