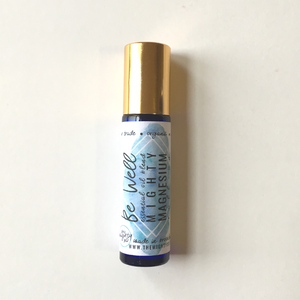 Be Well Magnesium Oil Roller: Wellness Remedy - Cold + Immunity Support
Sale price Price $20.00 Regular price
Be Well Magnesium Oil with Wellness Remedy Essential Oil Blend + ROSE QUARTZ Rollerball.
Blend of clove, cinnamon, eucalyptus, rosemary, lemon and sweet orange.
Magnesium Oil as the main ingredient will help you relax, stress less, calm your spirits and rest if you need. Use in your daily self care routine + as a naturally relaxing fragrance- Smell Good, Feel Good. 
10 mL Roll On - Rose Quartz Roller
Rose Quartz is also know as the LOVE stone, the stone of the HEART CHAKRA.
This special formula combines magnesium oil, essential oils, and rose quartz to open your heart, by centering, balancing and calming your mind/body/spirit to allow space for love and light to flow. When you're calm and in your most relaxed state is usually when it's easiest to see things most clearly, especially when it comes to matters of the heart.
Please note: rose quartz is a natural stone, so color may vary.
Organic | Vegan | Fair Trade | All Natural
Certified Cruelty Free and Vegan by PETA
INGREDIENTS:
Magnesium Chloride Salts from the Ancient Zechstein Seabed 
Distilled Water
Fair Trade Fractionated Coconut Oil
Organic essential oil blend: clove, cinnamon, eucalyptus, rosemary, lemon, sweet orange.