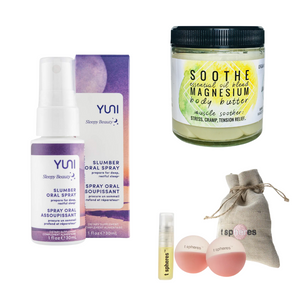 Evening Routine Set
Sale price Price $72.00 Regular price $72.00
INCLUDES:
- T Spheres Massage Ball Set
Perk Up - Infused with 100% Pure Peppermint and Pink Grapefruit essential oils.
Comes with travel bag + 3ml refresher spray.

Roll T Spheres under the foot, across the body, place them behind you in a seated position or lie on them to release muscle tension.
- Oral Slumber Spray
Treat yourself to a soothing spritz of this natural "nightcap."

Slumber Oral Spray is a dietary supplement to enhance your bedtime ritual. The calming cocktail blends Melatonin, GABA, L-Tryptophan, L-Theanine, Valerian Root, Ashwaghanda Root, and Chamomile - seven potent, naturally occurring ingredients selected to help mellow the day away to set the tone for a great night's sleep.
- Soothe Magnesium Body Butter 2oz Jar
This body butter is not only soft and moisturizing, but it also delivers a healthy dose of magnesium... Great for stress, cramps, tension and headache relief! 

Your body will thank you for all the added benefits of magnesium and baby-soft skin!