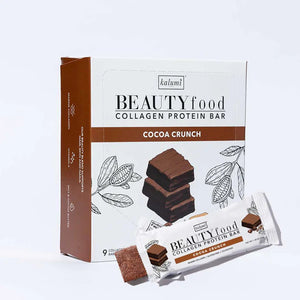 Cocoa Crunch Marine Collagen Bars (Box of 9)
Sale price Price $36.00 Regular price
Your one-step solution to skincare and a daily snack.
Tastes like: a rich, chocolate brownie with crunchy cacao nibs.
Why you will love the Cocoa Crunch marine collagen bars:

In a consumer study, 96% saw an improvement in the texture of their skin
Each bar contains 8g of Marine Collagen

 

(wild-caught, sustainably caught)
Contains MCT Oil, Sweet Potato, and Cocoa Butter for Antioxidants
Our bars are designed to make you feel your best inside out. With a blend specifically formulated to promote skin hydration while also offering a satiating balance of protein, quality fats and slow-releasing carbs, this bar truly does it all.
Gluten-free. Non-gmo. Dairy-free. Soy-free. 
INGREDIENTS: Almond Butter, Marine Collagen, Tapioca Syrup, Organic Agave Nectar, Cocoa Powder, MCT Oil Powder (MCT Oil, Soluble Tapioca Fiber), Organic Cocoa Nibs, Organic Cocoa Butter, Sweet Potato, Sunflower Lecithin, Natural Vanilla Flavor, Sea Salt, Organic Monk Fruit.
Contains: Fish (Wild Cod), Tree Nuts (Coconut, Cashews, Almonds)
Made in United States of America