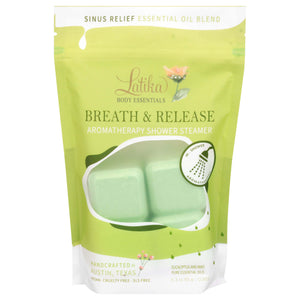 Shower Steamer Pods - Eucalyptus + Mint
Sale price Price $12.00 Regular price
Latika's shower steamers are the perfect way to reap the benefits of aromatherapy while enjoying a quick shower. These steamers are scented with an invigorating blend of eucalyptus and mint pure essential oils to awaken your senses and begin your day! Included in the bag are five individually wrapped 3 oz steamer cubes.
Made in United States of America
Instructions: Place one shower steamer as close to your head as possible when showering. Allow some of the water to hit the steamer. The steamer will begin to dissolve and release a scent.

To make your shower steamer last longer, remove from water once done using for aromatherapy.