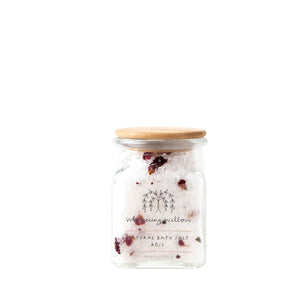 Rose Bath Salt
Sale price Price $18.00 Regular price
A mini-retreat from your modern life
These Rose Natural Bath Salts provide a fresh, floral aroma that invites you to create an oasis of peace and tranquility in your day.  While the unique blend of salts ease the tension and tightness from your muscles, the calming Rose scent provides mental and emotional calm and clarity that encourages balance and renewal.
With a base of Dead Sea Salt, Epsom Salt, and Pacific Sea Salt and a blend of organic rose petals, organic geranium essential oil, and rose essential oil.  The glass jar is recyclable with the bamboo lid seals tightly to maintain freshness.  The result is eco-friendly bath salt that will help you rediscover an inner harmony that you can carry with you as you journey ahead.
Instructions for use: Simply add a few tablespoons of our Natural Bath Salts to your tub as you run your bath.
Net Weight - 9oz
Rose Bath Salt Ingredients: dead sea salt, atlantic sea salt, epsom salt, chopped roses, organic geranium essential oil, rose essential oil
Cruelty Free. Organic. Made in the USA.