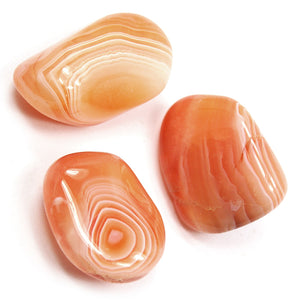 Carnelian Banded Agate Tumbled
Sale price Price $5.00 Regular price
(1) Carnelian Banded South African tumbled stone approximately 1 inch in size.
This Tumbled Banded Carnelian comes from South Africa and exhibits a rich orange coloring, with lovely banding. Carnelian Agate, usually just called Carnelian, is a powerful Sacral Chakra Stone.
A stabilizing stone, Carnelian restores vitality and motivation, and stimulates creativity. It gives courage, promotes positive life choices, dispels apathy and motivates for success. Carnelian is useful for overcoming abuse of any kind. It helps in trusting yourself and your perceptions.
Carnelian is useful in making decisions by keeping us focused on the here and now and not on past experiences. Carnelian calms anger and grounds you in reality, while keeping you aware of unconditional Love permeating the Universe. Carnelian encourages initiative and determination.