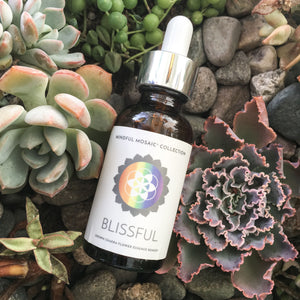 BLISSFUL - Crown Flower Essence Remedy
Sale price Price $29.50 Regular price
FIND CLARITY, CONNECTION, AND UNITY
A healing blend of Lotus, Silversword, Passion Flower, Orchid flower essences.
Lotus stimulates the seventh (crown) chakra, opening the individual to  Divine Inspiration and Spiritual liberation, and is beautiful for  those who seek enlightenment and inspired insight. The Lotus flower remedy holds the key to spiritual liberation and freedom, enabling the individual to find her way toward the sanctuary of her soul.
Silversword is very rare, with a high vibratory frequency. It releases encoded information stored in the miasmas (or cellular memory bank), completely opening ones energy centers and aligning the body with the next seven chakras above the crown. It cuts through the illusion of ordinary reality and unveils the curtain that separates us from our highest aspirations and healing.
Passion Flower offers the grace to understand the deepest possible meaning of our own personal destiny, which may include suffering or pain, after which it assists in the ascent to our truest calling of service on the planet. It seeks to purify the Kundalini forces which coil upward around the spine, strengthening one's connection to selfless service and unconditional love, as well as drawing one closer to angelic messengers and galactic star patterns.
Orchid greatly enhances one's divine pro-creative forces. This flower remedy seeks to refine the raw drive of the ego toward an enhanced understanding of Universal Love. Orchid climbs high to seek light, just as the soul of an individual must seek the illumination of light for the greatest task of healing.
Use: 1⁄2 dropper under tongue four times a day
Ingredients: Water, Brandy (40% Alcohol), infusion of Lotus, Silversword, Passion Flower & Orchid