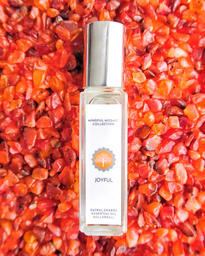 JOYFUL - Sacral Chakra Essential Oil Blend
Sale price Price $17.95 Regular price
INCREASE JOY, PLEASURE AND CREATIVITY
A healing blend infused with Ylang Ylang essential oil and Carnelian.
Apply on sacrum and lower abdomen 2 - 4 times a day and affirm:
"I have inner peace and joy."
Ingredients: Organic Helianthus Annus (Sunflower)oil, Organic Simmondsia Chinensis (Jojoba) oil, Organic Ylang Ylang essential oil, and energized with Carnelian gemstone.  
*Some gems may vary slightly.