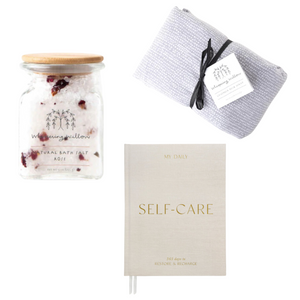 Evening Routine Gift Set
Sale price Price $84.95 Regular price
INCLUDED:
- Rose Bath Salt
These Rose Natural Bath Salts provide a fresh, floral aroma that invites you to create an oasis of peace and tranquility in your day.  While the unique blend of salts ease the tension and tightness from your muscles, the calming Rose scent provides mental and emotional calm and clarity that encourages balance and renewal.
Instructions for use: Simply add a few tablespoons of our Natural Bath Salts to your tub as you run your bath.
Net Weight - 9oz
Rose Bath Salt Ingredients: dead sea salt, atlantic sea salt, epsom salt, chopped roses, organic geranium essential oil, rose essential oil
Cruelty Free. Organic. Made in the USA. 
- Tranquil Grey Neck Wrap, Lavender Scented
These lavender neck wraps are a popular gift for busy moms, good friends and caring teachers. It's also a wonderful little luxury for those looking to treat themselves to some self-care. The hang tag provides instructions for heating and cooling the neck wrap.

Ingredients: wonderfully soft 100% cotton flannel filled with organic lavender flowers and organic flax seeds

Made in the United States of America.
- Daily Self-Care Reflection and Gratitude Journal 
Forming a habit of self-care is essential for everyone's mental, emotional and physical well-being. This journal will help you keep track of your self-care rituals, help with setting intentions and making time for reflection and gratitude. Not only is it helpful... it's beautiful and makes a great gift! 
Hardback foiled cover and spine
200 pages 210 x 165mm
2 Ribbon markers
Gilt edging
Self-care check-up
Self-care plan
Daily self-care
Daily intentions
Daily gratitude 
Evening reflection
End-of-year review
Vision boards