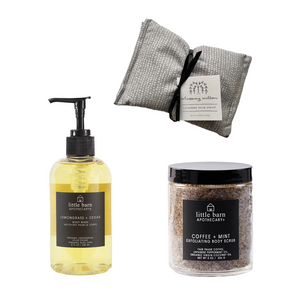 Men's Self-Care Set
Sale price Price $93.00 Regular price
Self-Care gift for guys they will really enjoy. It's an age-old problem, isn't it? What do you buy for men who have everything? Well based on our most popular products, we have created Self Care Gift for Men. Each product is carefully selected and we know your man or any man your life will truly love and enjoy this box.
INCLUDES:
Lemongrass and Cedar Body Wash
Cleanse and nourish your skin with this revitalizing, earthy body wash. Lemongrass oil is antiseptic and astringent which makes it highly beneficial for skin and gives you the deep clean you need while helping to brighten your mood with its light, citrus scent. It's a great ingredient for getting even and glowing skin, no matter your skin type. Cedar oil is known for its relaxing and calming properties, so breathe in deep while you lather up. Made in United States of America.
Neck Wrap, Lavender Scented
Wonderfully soft 100% cotton flannel filled with organic lavender flowers and organic flax seeds. Made in United States of America.
Coffee + Mint Exfoliating Body Scrub 
Made with organic, fair trade, hand ground coffee beans, virgin organic coconut oil, cocoa butter, and organic pure cane sugar. Coffee is packed full of antioxidants and caffeine to revive and firm the skin's appearance. Blended with fresh nuances of Japanese mint oil. Ingredients: sugar, coffee, coconut oil, fractionated coconut oil, meadowfoam seed oil, cocoa seed butter, cetearyl and sorbitan olivate (an emulsifier made from olives), peppermint essential oil.