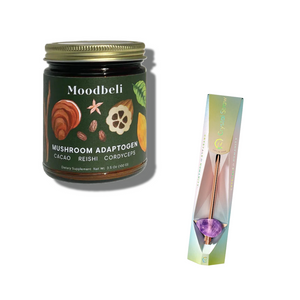 Cheers to You Gift Set
Sale price Price $75.00 Regular price $79.00
Give the gift of a different kind of cocktail this season! ⭐️ This "cheers to you" gift set includes:
Amethyst Crystal Straw: Create your own crystal-infused elixir while (stylishly) helping to curb wasteful single-use plastics. Infuse your beverage of choice with the healing power of amethyst.
The amethyst crystal slides on and off your straw for easy cleaning. We recommend you wash them both by hand with warm, soapy water using the enclosed cleaning brush.

Amethyst can help soothe and calm neural impulses, facilitating calm, clear thinking.
Digestion can be improved with amethyst.
Skin health can be improved by amethyst, including a reduction in swelling, bruising and the pain associated with these issues.
Amethyst can help in the reduction of tension and stress.
Moodbelli Mushroom Adaptogen: This blend of adaptogenic reishi, cordyceps and raw organic cacao may nourish the immune system and enhance well-being. Tastes like rich cocoa when mixed with plant milk of choice—no mushroom taste!
How to Use
Add one to two teaspoons of Mushroom Adaptogen to eight ounces of your favorite hot or cold beverage. Delicious in coffee, tea, smoothies and/or plant milk. Sweeten to taste. 
Immunity // Calm // Mood // Focus
Cacao is a natural mood elevator that contains high levels of iron, magnesium, calcium and antioxidants.
In Traditional Chinese Medicine (TCM), reishi mushroom is noted for its ability to ease the mind. Reishi has been used for over 2000 years in TCM and other Asian ethnobotanical healing traditions. Reishi is a potent adaptogen and may relieve stress when used over time.
Cordyceps regulates and supports vitality. Cordyceps is a prized adaptogenic fungus in TCM and has been used for hundreds of years to enhance aerobic capacity and improve cellular energy stores. 
Himalayan pink salt provides the body with essential minerals, balances electrolytes and pH, and supports optimal nutrient absorption.