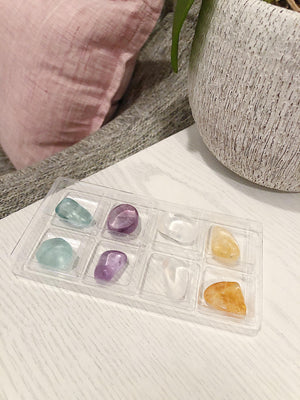 Glow Crystal Box
Sale price Price $24.00 Regular price
This 8 pack includes:

2 citrine

2 quartz

2 amethyst

2 fluorite
Each stone is labeled/identified with the intention - perfect for gift giving. Gifts for self care and inspiration, gift for friendship, hope, congratulations, or when someone is going through an intense time in their life and could use a little support.
Intentions:
Feel joy

Self care

Be present

Take deep breaths

Meditate

Sleep well

Follow your dreams

Refresh
SIZE: Each crystal is about the size of a quarter and fits inside a 1 inch x 1 inch slot in each crystal tray.
Made in the United States of America.