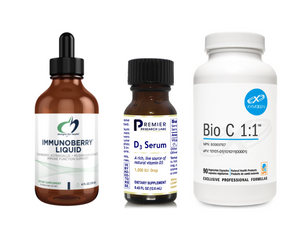 "Immunity" Bundle (Auto-Ship)
Sale price Price $88.72 Regular price
Auto-ship every 3 months
These days we are ALL trying to give our immune systems an extra boost, right?! Well, gone are the days of shopping for a ton of supplements at the drug store, this bundle has EVERYTHING you need for 3-months of immunity boosting potential! 
What's Included:
IMMUNOBERRY™ LIQUID: ImmunoBerry™ Liquid provides immune support with ingredients like elderberry, shiitake and wild cherry bark and more. It is sweetened with glycerine, tastes great, and is ideal for both children and adults. (Liquid, taken daily) 
VITAMIN D3 SERUM: Vitamin D3 is not only good for boosting your immune function, but also promotes bone growth and mineralization (absorption of calcium) and supports cardiovascular health as well. This is a Rich, Live Source of Natural Vitamin D3 with 1,000 mg of vitamin D3 per dose. (Pill form, taken daily) 
BIO C 1:1™ (VITAMIN C) 90 CAPSULES: Bio C 1:1™ combines high-potency vitamin C with a standardized, full-spectrum, citrus bioflavonoid complex. Both vitamin C and bioflavonoids have been extensively researched for their roles in supporting antioxidant and immune function. In addition, research indicates that vitamin C is required for the synthesis of collagen, neurotransmitters, and carnitine. (Pill form, taken daily) 
Ready to BOOST your immune function (without going to the store?) 
With this purchase, you agree to be charged $88.72 on the 1st every 3 months, starting the next month after this purchase. Please note, this bundle ships every THREE months.
After your purchase, please call our office at (212) 245-3129 to put your credit card on file for auto-pay if it is not already.