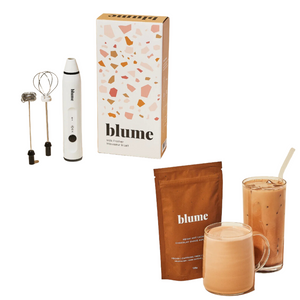 Indulge & Nourish Gift Set
Sale price Price $50.00 Regular price
What's Included:
- Super food powder offered in 4 flavors: Rose London Fog, Blue Lavender. Salted Caramel, or Reishi Hot Cacao
Hot chocolate that not only tastes good, but helps you feel good too. Known as the mushroom of immortality, reishi is a popular adaptogen that has been used for centuries to soothe stress. Paired with the magic of cacao, it's the smooth, mystic mushroom hot chocolate you didn't know you needed. Take a sip and find out why. (30 servings) 
Ingredients: Cacao Powder*, Coconut Sugar*, Cocoa Powder*, Reishi Mushroom Powder*, and Cinnamon Powder*.  CONTAINS: Coconut.


*Organic
All our ingredients are micro-ground for better absorption of health benefits and more versatility. Go beyond a (hot or iced) latte to superfood boosted smoothies, oatmeal, or your fave baked goods.
- Milk Frother
Whip your lattes into shape and channel your inner barista with our custom 3-speed Milk Frother. This frother includes a USB charging cable and two detachable whisk heads for dreamy, cloud-like micro-foam on the go. Works with any type of milk, hot or cold.