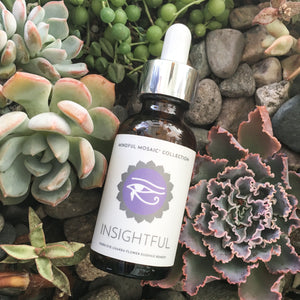 INSIGHTFUL - Third Eye Flower Essence Remedy
Sale price Price $29.50 Regular price
FEEL SAFE AND GUIDED. FIND INNER WISDOM.
A healing blend of Cat's Ear, Purple Water Lily, Queen of the Night Cactus, Cosmos flower essences.
Cat's Ear stimulates the Ajna Center, or, sixth chakra, also known as the Third Eye. It stimulates visions and dreams, allowing for attunement with the subtle energies that surround the physical world. This is a beautiful essence to take when pursuing work as an intuitive, writer, and counselor. It can be used to assist those who have experienced a near death or out of body experience, offering gentle guidance home to the 'earth soul.' It can be very helpful for those who disassociate from reality.
Purple Water Lily gently assists the process of spiritual rebirth. Having a profound effect on the brow chakras, the flower remedy assists with opening channels of communication with one's higher self, as well as with vast, unseen worlds by enabling the human body to absorb higher light frequencies.
Queen of the Night balances one's yin qualities by opening channels to the womanly gifts and secrets buried in the deep places of one's psyche. This flower remedy is a valuable tool for individuals during changing cycles of life, enhancing the intuitive work needed to find one's true purpose and value.
Cosmos helps those souls who are out of balance with their Higher Self and expression of creative imagination. The connection between heart and head are strengthened. Such individuals often feel frustrated and overwhelmed as they attempt to convey the true inspiration of their Higher Self through their thoughts and especially through their speech. These persons can be flooded with chaos, creating a lack of ability to connect to deeper visions.
Use: 1⁄2 dropper under tongue four times a day
Ingredients: Water, Brandy (40% Alcohol), Infusion of Cat's Ear, Purple Water Lily, Queen of the Night Cactus & Cosmos