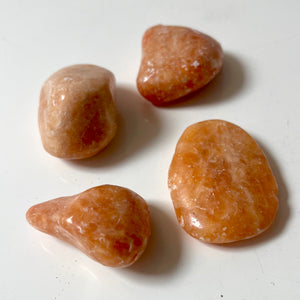 Orange Orchid Calcite - Tumbled
Sale price Price $6.00 Regular price
You receive (1) Orange Orchid Calcite Tumblestone, approximately 1-2".
The 'Stone of Promise', opens the being up to becoming more idealistic in nature, as well as helping towards planning with confidence for the future.

Calcite is a stone of promise. It works hard to help and support its keeper in many ways. A stone that is often grounding, comforting and settling, resonating often with its keeper on an earthly level, Calcite makes a wonderful support towards moving through daily life. It is a stone that can settle with many beings contently, especially as it tends to work in the here and now, while keeping they're feet on the ground at all times. Calcite is very stable and universal in its energy, and although it does differ in its forms, the undertones remain the same.

Orchid Calcite is refreshing to the mind, body and spirit. It is a stone that encourages the being to take steps forward instead of backwards, helping to raise confidence and courage.

This is a beneficial stone to help ease fears and worries, clearing anxiety and emotional upset. Also, a stone that resonates well with the Root, Sacral, and Solar Plexus energy centers, helping to stabilize them, as well as benefiting that which is clearly associated with the centers.

Orchid Calcite brings settlement, helping the being to root the self in order to become more grounded and more focused for life ahead. Also, a stone that helps the being to let go of the unneeded and move onto that which is beneficial and necessary.

A stone that encourages the being to be able to plan ahead with a positive attitude, helping to bring more ideas into everyday life in order to manifest that which is positive and bring more promising futures.

Orchid calcite is a great support at times where the being may struggle to find a focus point, helping them to find they're footing in order for life ahead to become that bit easier. Alongside this, Orchid Calcite encourages the being to recognise how much ability they have, and to accept where it starts and where it then needs to settle.

A stone that can help very well in the clearing of depression, lifting the spirits and bringing about a more joyous mood. Alongside this, Orchid Calcite improves willpower, determination and enthusiasm. ​​​​​​​

Orchid Calcite raises energy levels and improves motivation. A stone that helps the being to put ideas and dreams into action for an enlightened road ahead.