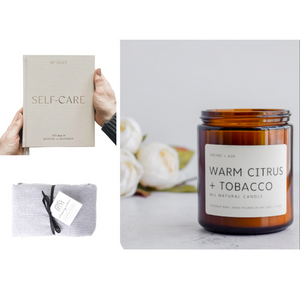 The Rejuvenate Set
Sale price Price $97.00 Regular price
INCLUDED:
- Warm Citrus + Tobacco Candle
Bergamot + grapefruit are warmed up with notes of spicy pepper and clove, and beautifully rounded out with notes of lavender, geranium and sweet tobacco.
Top: Bergamot, Grapefruit
Middle: Vetiver, Lavender
Base: Sweet Tobacco
• amber glass jar • 7.2 oz | 40-50 hour burn time or 12 oz | 60-70 hour burn time • 100% all-natural candle • all natural coconut wax blend • paraffin free • purely nature derived fragrance - ISO 9235 Certified • paraben, phthalate + synthetic fragrance free • all-cotton wick
- Tranquil Grey Neck Wrap, Lavender Scented
These lavender neck wraps are a popular gift for busy moms, good friends and caring teachers. It's also a wonderful little luxury for those looking to treat themselves to some self-care. The hang tag provides instructions for heating and cooling the neck wrap.

Ingredients: wonderfully soft 100% cotton flannel filled with organic lavender flowers and organic flax seeds

Made in the United States of America.
- Daily Self-Care Reflection and Gratitude Journal 
Forming a habit of self-care is essential for everyone's mental, emotional and physical well-being. This journal will help you keep track of your self-care rituals, help with setting intentions and making time for reflection and gratitude. Not only is it helpful... it's beautiful and makes a great gift! 
Hardback foiled cover and spine
200 pages 210 x 165mm
2 Ribbon markers
Gilt edging
Self-care check-up
Self-care plan
Daily self-care
Daily intentions
Daily gratitude 
Evening reflection
End-of-year review
Vision boards