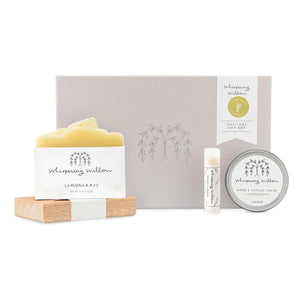 Self-Care Gift Box
Sale price Price $45.00 Regular price
<-- Choose from enchanting scents: lemongrass or eucalyptus & mint.
Each scent offers a unique aromatherapy experience, transporting you to a place of tranquility and rejuvenation. We know many folks can use a gentle reminder to prioritize self-care and this box can serve as that reminder. 

At Whispering Willow, we believe in the power of self-care and the impact it can have on your overall well-being.  We carefully curate products that are kind to your skin, mind, and the planet. Our commitment to using organic oils and essential oils ensures that you're treating yourself to nature's best.

When you choose Whispering Willow, you're not just investing in self-care; you're supporting a certified cruelty-free and woman-owned business. We take pride in handcrafting our products in small batches, ensuring the utmost attention to detail and quality. 

Join the movement of folks who prioritize self-care and share the love with our Self-Care Gift Box. It's the perfect gift for birthdays, anniversaries, or just to show someone you care. Let your loved ones indulge in the art of self-care, and they'll thank you for the thoughtful reminder.