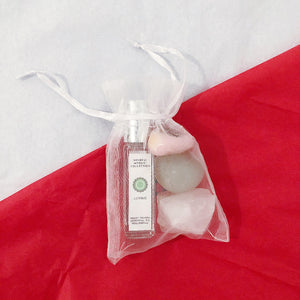 Crystal Lover Set
Sale price Price $34.95 Regular price
This set features a Heart Chakra essential oil roller infused with a Rose Quartz crystal, and 3 crystals that can help balance the Heart Chakra. A perfect, heart-opening gift! 
Includes:

(1) Pink Opal Crystal - A compassionate and nurturing stone, Pink Opal's gentle vibration and soothing pink colors will encourage peace and tranquility. This vibration assists us in dissipating stress, worry and anxiety, while encouraging us to remain calm and centered as we go through the good and the bad times.
(1) Green Quartz - Mainly considered a symbol of serenity, tranquility, and purity. It's a stone that's believed to bring in good luck, friendship, peace, and harmony. It can be 

wonderful for working with the Heart Chakra — balancing male and female energies, and helping relationships to prosper. Green Quartz can also instill confidence and calm the nervous system.
(1) India Rose Quartz Raw - The soft pink emanations of Rose Quartz comforts and heals any wounds the heart has suffered, penetrating the inner chambers of the Heart Chakra where emotional experiences are recorded and stored. It dissolves the sorrows, worries, fears and resentments suppressing the heart's ability to give and receive love, and replaces it with healing, comfort and inner nourishment. A deep sense of personal fulfillment and energy forms a new foundation where inner peace and contentment can become a personal reality.